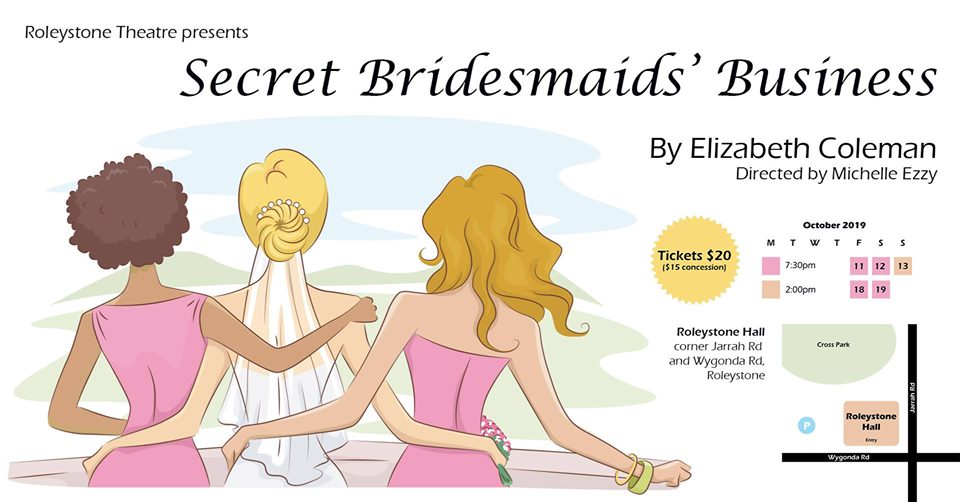 Secret Bridesmaid's Business
presented by the Roleystone Theatre Inc.
Production dates: October 11th, 12th, 13th (matinee), 18th and 19th
director, Michelle Ezzy, at mezzymusic@gmail.com
Synopsis:
It is the night before Meg's wedding. She and her bridesmaids are planning to kick up their heels as the final hours before the big day tick down. However not everything goes to plan as a last-minute scandal threatens to ruin the whole affair. Elizabeth Coleman's wonderful characters bring this seriously funny play to life. Never far from reality, it exposes the insanity that can be created as the wedding juggernaut threatens to swerve out of control. Marriage may be a wonderful thing, but after a night like this, well, could it really be worth it? – AustralianPlays.org
Written by award winning Australian playwright Elizabeth Coleman.
*****************  AT 44 JARRAH ROAD, ROLEYSTONE   *******
Details
Starts On
11/10/2019 - 8:00 pm
Ends On
12/10/2019 - 10:00 pm
Cost
$20.00
Event Categories
Venue

ROLEYSTONE
WA
Australia
6111
P: 6396-1557
Powered by Yendif Technologies