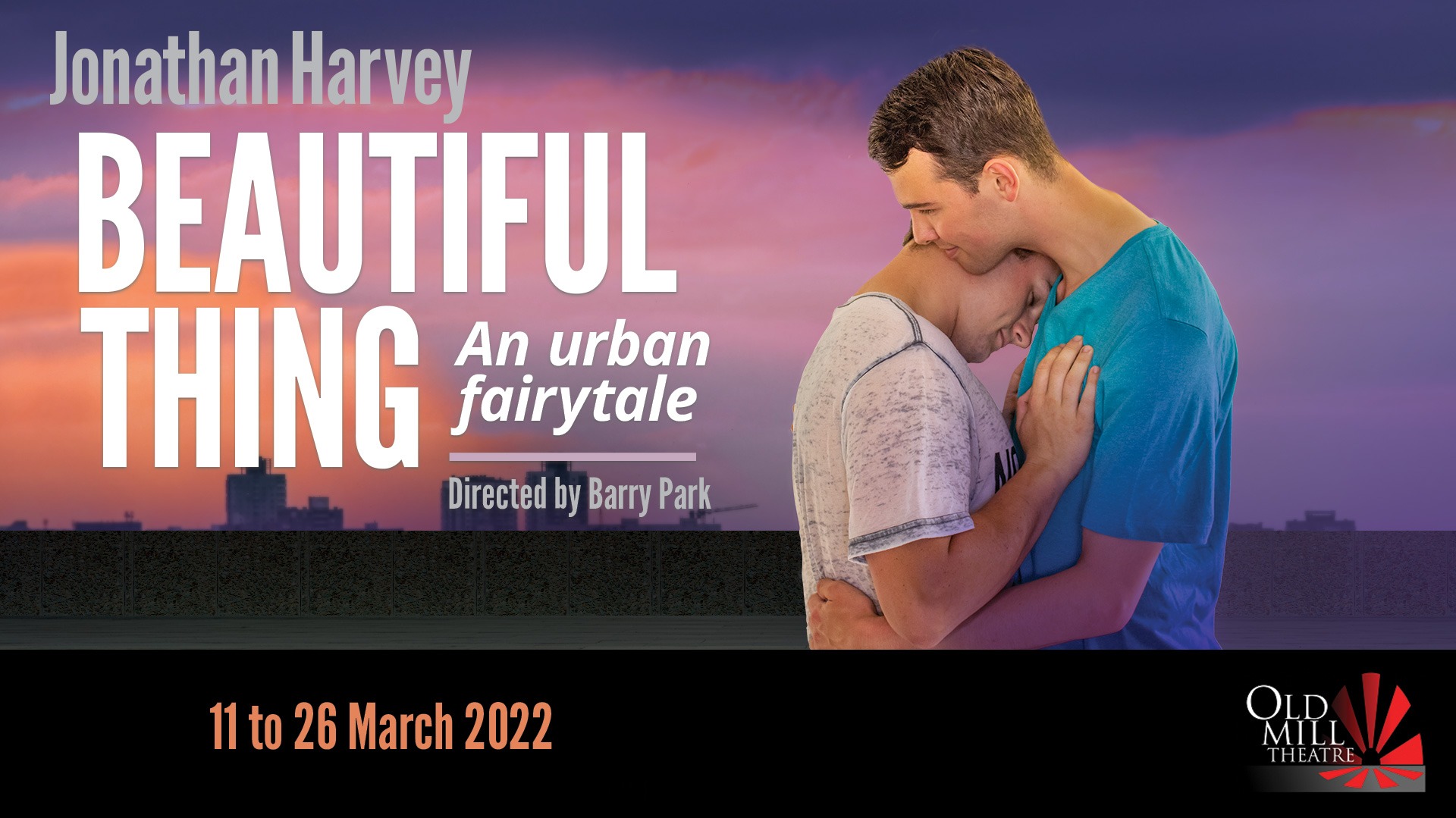 By arrangement with Music Theatre International Australasia Pty Ltd, on behalf of Dramatists Play Service, Inc.
By arrangement with Music Theatre International Australasia Pty Ltd, on behalf of Dramatists Play Service, Inc.
The Old Mill Theatre presents
BEAUTIFUL THING – An urban fairytale by
Jonathan Harvey
directed by Barry Park
Featuring Cooper Gray, Orla Poole, Stacey Broomhead, Felix Malcolm and Ashvath Singh Kunadi.
18 to 20, 23 to 26 March 2022, with Sunday matinees
We have added an extra performance on Saturday 26th March at 2.00pm
59 seats available, get in early to ensure you don't miss this wonderful show.
Old Mill Theatre
Mends Street, South Perth, WA 6151
A bittersweet comedy about young love
Coronation Street writer Jonathan Harvey is at his insightful and hilarious best in this iconic portrait of adolescent self-discovery.
In a run-down Thamesmead council estate, Jamie is bullied at school and Ste is bullied at home. One evening, Ste seeks refuge at Jamie's. Something exciting and beautiful begins.
At turns tough and tender, this upliftingly optimistic play captures exquisitely and joyously what it is to be sixteen, in the first flush of love and full of optimism.
Deftly combining comedy with ardent drama, the play sings, with characters that abound with attitude, energy, frankness and humour.
A gloriously nostalgic trip back to the early nineties, bright with sensitivity, pathos and wit, it has a summery soundtrack of beautiful Mama Cass songs.
"Deliciously upbeat… Harvey crafts his play with astonishing maturity and grounds the drama in a tangible sense of reality. He draws his characters with such delicate detail that when the fantasy takes flight the audience is more than ready for take-off… Truly a most unusual and beautiful thing." — Guardian (London)
"BEAUTIFUL THING is an excellent, heart-warming play." – Observer
"A chirpy, sensitive, compassionate and garrulous play…. Harvey has a wonderful ear for edgy, knockabout teenage dialogue and the language of people whose first reaction to feeling is suspicion and self-defence." – Sunday Times
"Only a theatregoer with an ice cube where his heart should be would remain indifferent to the plight of Jamie and Ste, the teen-age heroes of BEAUTIFUL THING, Jonathan Harvey's endearing, lopsided smile of a comedy about a boy who falls for the boy next door… warm and rewarding" — NY Times.
"BEAUTIFUL THING'S crisply authentic dialogue darts between aching, soul-searching emotion and sharp winning comedy, perfectly capturing the thrill of a first love." – Drama Online
"An unfakably truthful portrait of adolescent self-discovery, showing sensitivity and fun, pushing up like wildflowers through the concrete crevices of a Thamesmead estate. This is the most heartening working-class comedy since A Taste of Honey." —Sunday Independent (London).
"If ever a play had the bloom of youth on it, then it is Harvey's marvellous 'urban fairy-tale' about two schoolboys falling in love on a grim south-east London council estate…. The gaucheness, the rush of excitement and the inarticulate tenderness of young love are beautifully captured in writing of great truth and delicacy. Only the most irrational of homophobes could fail to be moved by it." – Daily Telegraph
"…a sharp, tart English comedy of manners…" — New York Post.
Details
Starts On
17/03/2022 - 7:30 pm
Ends On
26/03/2022 - 10:00 pm
Event Categories
Venue

South Perth
WA
Australia
6152
P: 9367-8719
Powered by Yendif Technologies